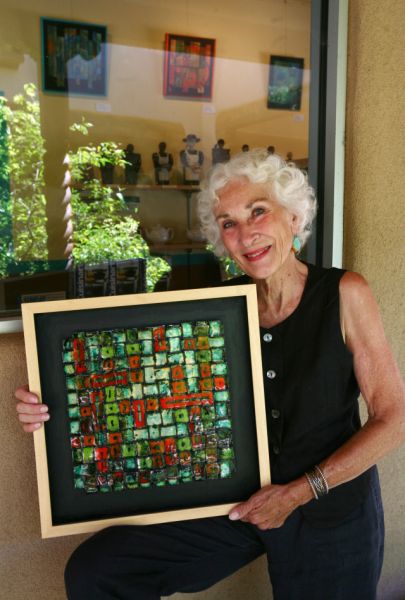 ELDORADO: New medium for new expression
By ANA MARIA TRUJILLO
The New Mexican
August 14, 2007
The walls of Las Chivas Coffeehouse in Eldorado are filled with new art by Eldorado artist Virginia Westray. Half of the shop features Westray's enamel-on-copper works, and the other half features mixed media on paper, a new artistic venture for Westray.
Westray said she's always been artistic. When she was a little girl, she'd make various crafts, from teddy bears to jewelry. When she got an enameling kit, she knew that was the medium for her, at least until spring 2007.
She dabbled in art for a while in high school, but while she was attending Albion College in Michigan, she started taking more classes.
She transferred and graduated from the University of Illinois and studied at the Art Institute of Chicago.
She gave up enameling temporarily while she raised her children and then took it up again in the 1990s. She'd been faithfully working with enamels until recently, when she found a new use for sheet music a friend gave her years ago.
"Some of it was music I'd never played," she said. "I thought I'd use it in my artwork."
She started cutting up the sheets, putting them on paper and using various materials, including watercolors, color pencils and acrylic, to color around the pieces.
"I needed to step aside and get new ideas," Westray said. She got some watercolors and started experimenting with collages with old sheet music. "It's been a total change and it's been really exciting to me. When it's right, it's right."
Her favorite piece is An A-6-4 World, which features a piece of sheet music that had markings from a teacher.
Westray said she's happy with her new medium and hasn't done any new enamel since she started the mixed media.
"I'll go back to it," she said of the enamel. "I love working with these things. I lose myself in them. ... The work is coming from inside of me."
Westray writes in her artist's statement that her images deal with ideas and feelings "of emergence, growth, light and strength."
Westray moved to Santa Fe in 1966 with her husband, who has since died. She eventually started a bookbinding business, something she still does on occasion.
"We decided we'd rather spend our lives here than (wait) until we were 65," Westray said.
Westray's work will be on display at Las Chivas throughout August. For more information, call 466-1010.